I've gotten a lot of questions about how I made the panels for my quilted Weekender Bag and, since I'm in the process of making a second one, I was able to take some photos and write up a little tutorial.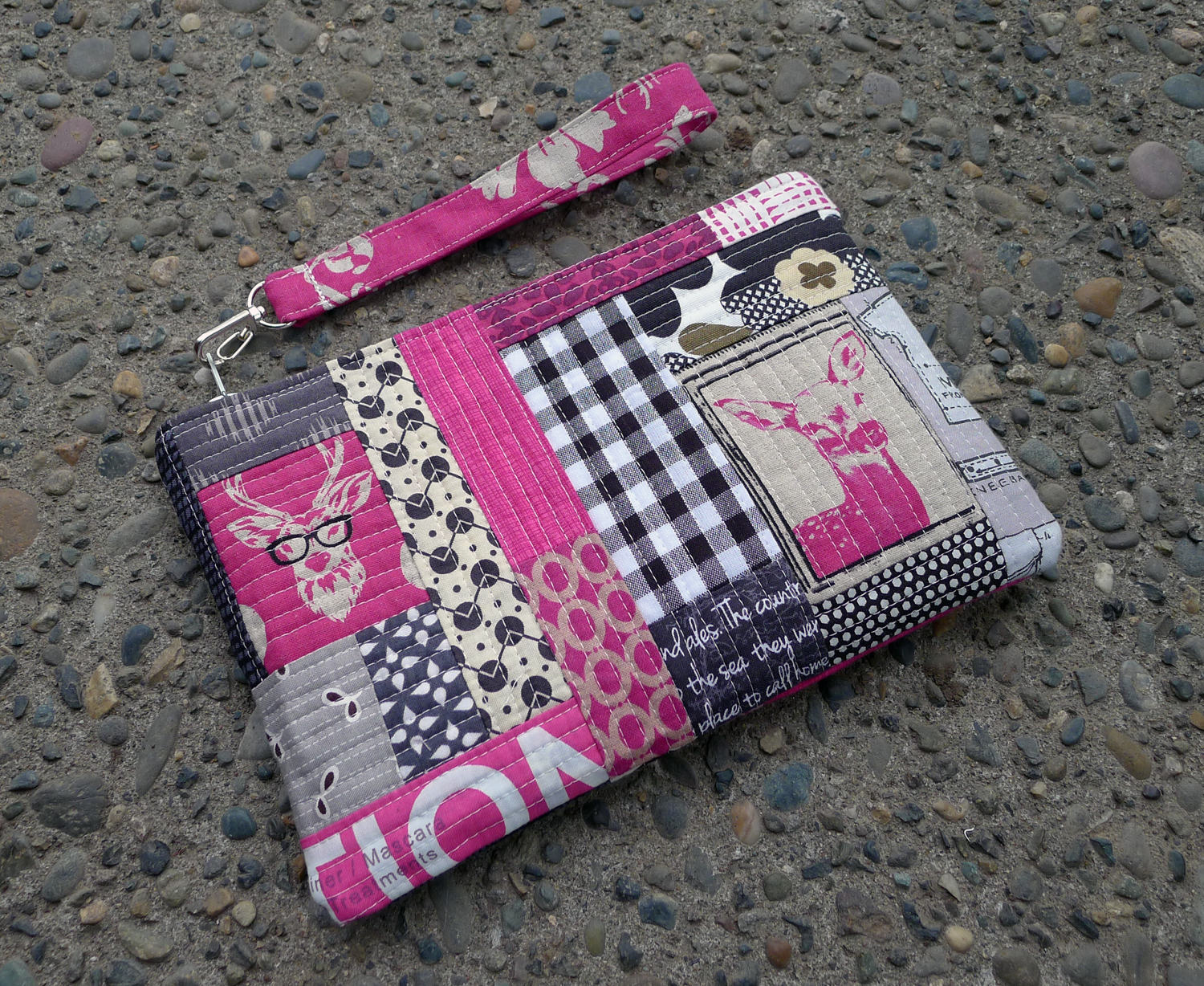 The process of making these quilted panels is not specific to Amy Butler's Weekender Bag pattern and this is not a tutorial for making that bag in particular. This process can be used in lieu of interfacing/interlining for most structured bags. For example, I made this pink wristlet using the same process from my Perfect Zip Bags pattern. This is also a great technique for things like iPad cases or laptop covers.
This is not a good process to use for bags with a slouchy sillouette or bags that have pleating or gathering.
There are several reasons that you might want to use this process when making a bag.
The first is obvious, and it's that patchwork = fun! This is a great way to use a lot of scraps and to fussy-cut favorite fabrics like the Echino Decoro prints that I used on both my wristlet and Weekender.
The second is that this is a great way to create structure without fooling around with a lot of interfacing or adding a separate interlining. The patchwork panels will take the place of pieces cut from a single exterior bag fabric but, because they'll be much sturdier than just pieces of fabric, you won't need to add interfacing. Once you've made the panels, you can finish your bag with the same handles, lining, etc., that you normally would.
Finally, it's a good way to use up batting scraps, which is something I have a lot of.
Before I get started with the tutorial, I want to mention again that the basic piecing concept with straight-line quilting is inspired by a quilt in Suzuko Koseki's Machine Made Patchworks, which has been translated into English as Patchwork Style.
Materials
Besides your fabric scraps, you'll need low-loft batting and a sturdy utility fabric.
I used scraps of Warm and White and Warm and Natural batting because that's what I have around, but any low-loft batting will do. I like cotton, but a high-quality needled poly, or even fusible fleece should work just fine.
For the utility fabric, I recommend Cotton Duck (aka canvas) or Drill Cloth, which is similar but slightly softer than the Duck. Denim or heavy twill would also work and, because you won't see the utility fabric at all, it's a great place to use up odd pieces that you may have laying around. Just keep in mind that the structure of this fabric will influence the structure of the bag. If you want a bag that stands on it's own, use Cotton Duck or something with a similar weight. If you're mixing and matching odd pieces (as I did with my first Weekender) make sure that the fabrics you're using are all the same weight, so that parts of your bag aren't more sturdy than others.
If you're buying yardage of the utility fabric to use with a bag pattern, you'll want exactly the same amount as you would have used to make the bag exterior from a single fabric. Cut your utility fabric as you would have cut pieces for the bag exterior.
For each pattern piece, cut a corresponding piece of batting that's equal to the size of the pattern piece, less the seam allowance. In my example, the bag is going to be constructed using a 1/2" seam allowance, so I've made the batting 1/2" smaller on all sides.
Prepare Your Machine & Workspace
Fit your machine with a brand new 90/14 Machine Quilting needle and a good thread. This will take a lot of thread, so I like to wind a few bobbins in advance. I prefer Aurifil 50 wt, but a good 100% poly thread would also be a good choice. You just want to avoid something super thick that's going to obscure your fabrics.
I also recommend turning up your stitch length just a touch. I usually piece at about 2.2, but I turn up to 2.7 or so for this. I didn't put on my walking foot. Instead I just turned the presser foot pressure way down (something you may or may not be able to do, depending on your machine). Experiment to find what works on your machine. You may find that your fabric warps without a walking foot and, if that's the case, you'll obviously want to use one.
This process is going to involve a lot of repetition among your machine, cutting mat, and iron. If it's possible for you to set things up so that you don't have to get up every time you need to cut or press, it will go much faster. I like to use my little pressing table next to my machine for projects like this.
Let's Patchwork!
Center the corresponding piece of batting on top of one of the pieces of utility fabric.
The patchwork will be added in a scrappy log cabin style, so start by determining where the center of the log cabin is going to be. You'll probably end up losing a little more size than the typical 1/4" seam allowance, so cut your patchwork pieces generously.
Quilt over the log cabin center, securing the piece of fabric to the other two layers. I used a simple pattern of straight lines going back and forth across the piece of fabric. If you look closely at the above photo, you can see how I used the area just outside the piece of fabric to turn around, keeping my quilting in a continuous line.
I'm using plain straight lines here, but you can really use anything you want, including free-motion. Because the batting/background will eventually be covered with more fabric pieces, all of those turns and starts and stops will be hidden in the finished project. That makes this a great place to play around with multiple quilting patterns that it may be tedious to combine in a more conventional quilting project.
The subsequent pieces are going to be added just like a scrappy log cabin but, because they're going to overlap as they get added, there's no need to cut them to exactly the right size or trim up the edges. Yay!
Place the next piece face down (right sides together) along one side of the center piece that you just quilted and sew the two pieces together using a quarter inch seam allowance and sewing through all layers.
Press the new piece to the side (away from the center) and quilt it down.
Continue adding pieces around the center.
As you add pieces near the outside edges of the bag panel, try to make the pieces of fabric that you're adding a little bigger (so they continue off the edges).
As the log cabin gets bigger, you may want to start adding pieced units, rather than single pieces of fabric. For them, I like to press the seams open to reduce bulk.
Add the pieced units in the same way you added the single pieces of fabric.
If you look at the above photo, you can see how that seafoam piece I added to the top was a little wider than it needed to be. That's fine for the fabrics I'm working with, as it's going to get covered up by the piece I'm adding now. The only time this kind of thing may be a problem is if you're working with a lot of white/light fabrics. If you are working with a lighter fabrics, just be a little more careful about cutting the pieces to size before you add them.
When your bag panel is completely covered with patchwork, the back will look something like this. It's not pretty, but all of the raw edges of the patchwork are hidden, which will simplify the construction of your bag.
Use the utility fabric as a guide to trim the bag panel to size and stitch around the outside edges to tack down any loose pieces of fabric.
If you're working on a larger panel, you may want to start piecing in more than one place.
Continue adding to each log cabin until they're about to meet. Add a strip of fabric (pieced or not) to one side and press it toward the other.
Turn under the raw edge of the fabric strip, making sure that it covers any raw edges on the part you've already quilted. Quilt this piece as you did the others to finish the panel. Easy!
Note: You can see in the above photo how that gold piece of fabric with the flowery ovals doesn't quite reach the edge of the panel. Because the bag is going to be sewn with a half-inch seam allowance, I feel like this will be plenty secure in the finished bag. A good rule of thumb is to make sure that at least 1/4" of each piece of patchwork fabric will be caught by the seam allowance in the finished bag.
In the earlier examples my piecing has been very conventional. In this case, I used the same idea with wonky angles.

This photo is a main and pocket panel for a Weekender Bag. When I'm making something like this with a pocket, I like to take into account how the patchwork is going to look when the pocket and handles are added to the finished bag and plan the patchwork composition accordingly.

If a pocket is going to be added (as with the Weekender Bag) you may or may not want to cover the entire panel with patchwork. In this case, I continued the patchwork a couple of inches below the pocket line and then covered the rest with a piece of my piping/handles fabric.